A great chance for a short two-day (Sat-Sun) trip to Athens, Greece. Book your flights from London Luton and add an overnight stay at an excellent 3* hotel in the city centre, all for just £55 per person when two people are travelling.
A 2-NIGHT TRIP TO ATHENS FOR JUST £55 PER PERSON
DATES: 12 – 13 November (Saturday – Sunday)
TOTAL: £110 for two people or £55 per person
Edit the travel dates after following the link below and you will see a similar price for two more weekends: November 19-20 and November 26-27.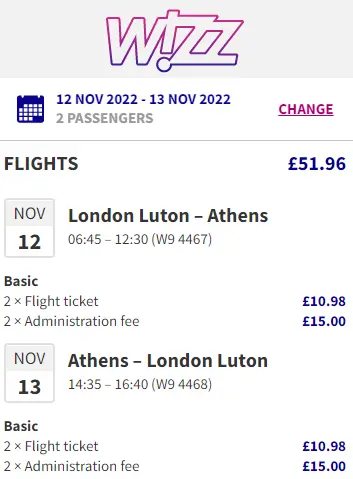 FURTHER INFORMATION
Flights are operated by Wizz Air
The fare includes hand baggage only. Checked baggage can be added for a surcharge
You can find alternative travel dates and departures from other airports here
We recommend that you take your free Revolut card with you to Spain, which will reduce the cost of currency conversion from GBP when shopping and withdrawing money from cash machines
Need travel insurance? Check the available offers and buy online here
COMPARE AND SAVE
CHECK CURRENT DEALS IN YOUR AREA