Cheap flights from London Luton to Copenhagen for just £9.98 return with Ryanair. The Irish low-cost airline offers as many as four daily flights between Luton and the Danish capital, which means that you can hop over to Denmark for just one day – leaving in the morning and returning in the evening, and without having to spend the night!
LONDON LUTON ⇆ COPENHAGEN
You can book your flights via Ryanair.com. Tickets include two pieces of hand luggage.
AVAILABLE DATES FOR ONE-DAY TRIPS (MORNING TO EVENING) AT £9.98 RETURN: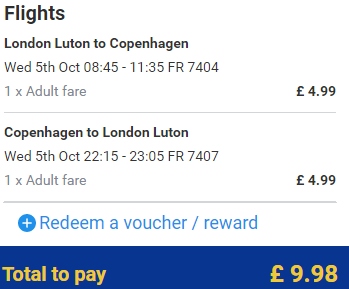 ROUTE
ALSO RECOMMENDED:
CHECK CURRENT DEALS IN YOUR AREA
LONDON BIRMINGHAM BRISTOL MANCHESTER LIVERPOOL EAST MIDLANDS LEEDS NEWCASTLE SCOTLAND BELFAST
The advertised airfares or hotel rates are valid at the time of publishing. Due to the nature of the airline and hotel market, these prices may rapidly change. Click here to learn more >>